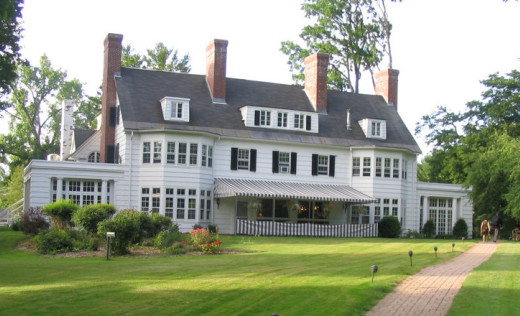 Kopec's Adult Chess Camp
First Rate Instruction in a First Rate Setting
A five day chess retreat at a beautiful Southern Vermont inn with world class instruction. Bennington, VT: August 17 - 21, 2015 Register Today
Top Reasons to Attend
World Class Instruction
Internationally renowned author, professor, and chess educator IM Dr. Danny Kopec personally leads instruction of every attendee.
Beautiful Vermont Setting
Located at the historic Four Chimneys Inn, the Camp is just a couple miles from beautiful downtown Bennington, Vermont.
Collegiate Atmosphere
Attendees will be a mixture of returning Camp veterans and new participants from around the country in a friendly adults only program.
---
Photos
---
Accommodations
Accommodations
Four Chimneys Inn
The inn where the Camp takes place. SOLD OUT!
South Shire Inn
A historic B&B with modern comforts. Rates include full breakfast. Rooms start at $129. Use code "Chess Seminar" to receive a 10% discount. 888-201-2250 www.southshire.com
Paradise Inn
A family owned inn with modern facilities. Rates include continental breakfast and start at $75. Mention "Chess Seminar" when booking to get one of the reserved rooms. 800-575-5784 www.vermontparadiseinn.com
---
Register
Register
Registration is $500 for the entire 5 days of instruction and includes lunch, and a free copy of Test, Evaluate, and Improve Your Chess (2nd edition by Kopec and Terrie). The Camp begins Monday, August 17th at 1 PM and ends Friday, August 21st at 3 PM. Space is limited to 20 participants and registration fees are non-refundable after June 1st.

Register Online:
Register by Mail:

Make checks payable to "Kopec Chess Services." Include your name, rating, phone number, and email address. Write to:

Kopec Chess Services
131 Marion Ave.
Merrick, NY
11566

---
Questions
Questions
Who is the Camp for?
The Camp is for adults rated 1300 - 2000.
Who is IM Dr. Danny Kopec?
Danny Kopec is one of the most talented home-bred players in the US. Dr. Kopec was New York High School Champion at 14, National Master at 17, Scottish Champion in 1980, 2nd-equal in the Canadian Closed in 1984, and International Master in 1985. He is an active player, journalist, writer, chess educator and scholar. His competitive results with top-flight chess professionals have always been remarkable. He has also delivered many chess courses, lectures, published seven highly recognized chess books, and has developed eight highly regarded instructional videos (18.5 hours). Over the past 21 years Kopec's Chess Camp, has become world renowned. About IM Dr. Danny Kopec
What is included in the price?
The price of registration includes 5 full days of instruction, lunch, and a free copy of Test, Evaluate, and Improve Your Chess (2nd edition by Kopec and Terrie).
What about breakfast and dinner?
All of the inns that we have arranged accommondations with provide breakfast with your room. Each day the Camp takes a break from 4 to 7 PM during which attendees may choose from a myriad of local dining options on their own.
What is the daily schedule?

9 AM to Noon: Instruction
Noon to 1 PM: Lunch
1 PM to 3 PM: Game Play
3 PM to 4 PM: Game Analysis
4 PM to 7 PM: Break
7 PM to 9:30 PM: Special Activities

Note: Activities begin at 1 PM on Monday and only light refreshments will be served that day. Activities end at 3 PM on Friday.
Can I book my own accommodations?
Yes, since the price of registration does not include lodging, of course you may stay whereever you like.
Where will instruction take place?
Daily instruction will take place at The Four Chimneys Inn located at: 21 West Road (VT Rt 9), Old Bennington, VT 05201 www.fourchimneys.com
How many people will attend?
We have a hard limit of 20 participants due to instructional space constraints. We have already filled more than half of the slots, so act quickly to secure your place.
Do you have more questions?
Email Us: drk@kopecchess.com
Call Us: 516-782-5285